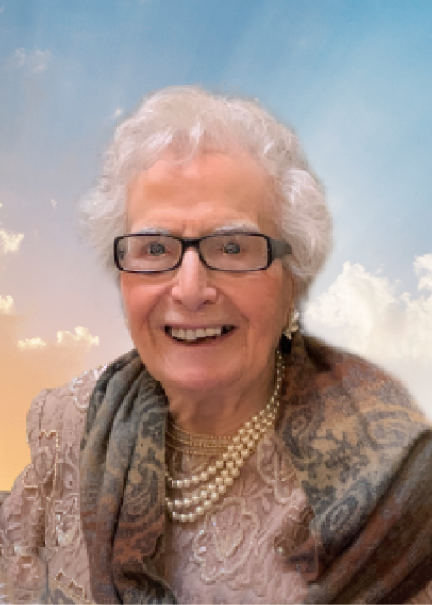 Grace P. Botelho
1919 - 2022  
Grace P. (Rodrigues) Botelho formerly of Cambridge; Belmont; and most recently for the past 9 years, Reading MA, passed away on August 16, 2022, at the age of 102 following a brief illness. 
Grace who was known to her family and close friends as Ti-Ti, was preceded in death by her beloved husband of forty-eight years Joseph H. Botelho of Cambridge; her parents, Maria and Gil G. Rodrigues of Belmont; and her brother Gil P. Rodrigues and sister-in-law Mary F. Rodrigues of Belmont. Grace is survived by several nieces and nephews. She is the beloved aunt of Gil and Barbara Rodrigues of Methuen, MA, and John Rodrigues of Reading, MA. She is also the great aunt of Elizabeth and Michael Cashman of Londonderry, NH, and Christina and Randald Bartlett of Methuen, MA. Grace is the great-great aunt of Callie, Ella and Faith Cashman and Jackson and Joey Bartlett, all of whom held a special place in her heart.
Grace was born in Porto, Portugal and came to the United States when she was eleven years of age. She was a very proud American who also took great pride in her Portuguese heritage and enjoyed several return trips to Portugal to visit her roots and bask in the culture.
For many years Grace exhibited her talents as a singer, working in local clubs, weddings, and special events under her professional name Donna Rogers.  Grace had a passion for music and dancing. Her husband and favorite dance partner, Joe, was always at her side and in the audience admiring every performance. 
In her later years, when living alone became too burdensome, Grace moved to an assisted living facility in Reading to be closer to her nephews. There she found new vigor and thrived both mentally and socially. She always had a sunny smile, a kind word and friendly greeting for everyone. Grace rarely missed an opportunity to interact with her neighbors, to take part in the daily activities, or to try something new, even at the age of 102. 
Grace loved life and lived it to the fullest. She often said she wanted to enjoy every moment God had given her. Equally important to her was her passion for family and friends. She showered them with love. Always willing to listen, offer a word of encouragement and help in any way she could. Passionate, considerate, fun, glamorous, loving and kind is who Grace Botelho was. 
Today, undoubtably Grace is in heaven singing with a choir of angels as she joyously awaits being reunited with her family and friends when they too return home themselves. Ti-Ti Grace will be there to welcome them as she so often did with open arms, her loving heart, an infectious smile, and a warm embrace. Until then, Ti-Ti rest in peace and love. 
Visiting hours will be held at the Rogers Funeral Home, 380 Cambridge Street in Cambridge on Wednesday, August 24, 2022, from 9:00 to 10:30 am, with a funeral mass to follow at St. Anthony's Church, 400 Cardinal Medeiros Avenue in Cambridge at 11:00 am.
Interment will be at the Cambridge Cemetery