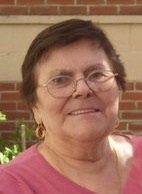 Moniz, Maria (Vieira) of Cambridge, January 26, 2022, at age 88. Devoted wife of the late Francisco Moniz.  Loving mother of the late Manuel Moniz. Cherished daughter of the late Maria (Gouveia) and Manuel Vieira. Beloved sister of the late Arminda Vieira. Adored aunt of Lucia Valerio, Maria Vieira, Connie Correia, Ana Cabral, Eduarda Chaves, Maryann Sousa, Fatima Fountain, Susan Kowalski and the late Nelia Baia.  Also survived by great-nieces, great-nephews, and many other loving relatives.  
Visitation at the Rogers Funeral Home, 380 Cambridge Street in Cambridge on Monday, January 31, 2022, from 9:30 to 10:30 am.
Funeral Mass to follow at St. Anthony's Church, 400 Cardinal Medeiros Avenue in Cambridge at 11:00 am.
Cambridge Massachusetts Covid – 19 guidelines, requires everyone attending MUST wear a mask while in the funeral home and the church. Please practice social distancing whenever possible.