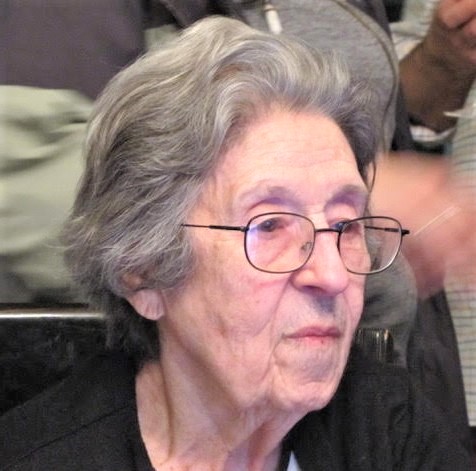 Bulhoes, Alice (Oliveira) of Holbrook, January 17, 2021 at age 92, formerly of Brockton and Somerville.  
Devoted wife of the late Jose M. Bulhoes.  Loving mother of Maria Leonor Colosi and the late Mario Jorge Bulhoes Sr.  Beloved mother-in-law of Francis Colosi and Mary L. (Fiore) Bulhoes. Cherished grandmother of Pedro Giesta, Luana Tarkanian, Mario Bulhoes Jr., Victoria Giesta Santos and the late David Bulhoes.  Treasured great-grandmother of Tiago, Lucy and Olivia Giesta, Alice, Rose and Solomon Santos, Anna Tarkanian, Paige and Mason Bulhoes, Maggie and Winnie Powers and Ian Jorge Bulhoes.  Beloved sister of Susana Medeiros, Regina Camara and the late Antonio, Mario and Jaime Oliveira.  Also survived by nieces, nephews, and many other loving relatives and friends.
Visiting hours at the Rogers Funeral Home, 380 Cambridge Street in Cambridge on Tuesday, January 19, 2021 from 4:00 to 8:00 pm.
Due to Covid-19 and Massachusetts Tracing Guidelines, the funeral home is limited to 20 people inside the funeral home.  A mask must be worn, over both the nose and mouth, at all times, and social distancing guidelines must be observed. 
The funeral home and the family are asking those who plan to attend to please come in, pay your condolences and then exit to make it possible for others to do the same.  
A funeral mass will be held on Wednesday, January 20, 2021 at the St. Anthony's Church, 400 Cardinal Medeiros Avenue, in Cambridge at 10:00 am.  
Everyone attending church must be registered.  You may register at the funeral home on Tuesday during the visitation.    
If you are not attending the visitation, but wish to go to the funeral mass, please email the names and phone numbers of those people attending to This email address is being protected from spambots. You need JavaScript enabled to view it. prior to 6:00 pm on Tuesday, January 19, 2021.  
Due to COVID-19 - 19, Massachusetts Tracing Guidelines and the Guidelines of the Archdiocese of Boston, seating is limited to 95 people in the church.   Social distancing must be observed, and a mask must be worn at all times.  
No one is permitted to enter the church until the funeral home personnel arrive.
In lieu of flowers please consider making a donation in Alice's memory to the Leukemia and Lymphoma Society at donate.lls.org.